9.30.2004

I don't know what the hell I am doing but it sure is fun.

Lol. If you need to know I will tell you. Do not fear.

*kissed* @ 2:27 PM



9.29.2004

UGH. ENOUGH with the drama. Seriously. Everyone just quit involving me. I hope it is done. I have said my peace with James, said my peace with Dez, and now I just have to deal with the fact that I am a fucking homewrecker... well. Not really. But still. According to Tom and Baker... odds are I will be.

I am sick of drama.

Atleast the latest drama is no fault of mine... at all.



*kissed* @ 2:35 PM



9.28.2004

Forgetting about a test and remembering it at 4 in the morning after you have spent all night goofing off, sucks.

I think I did good enough. Lets see. :)

*kissed* @ 1:23 PM





Wow.

Just spent 2 hours with my first... love I guess? My first pretty much everything (minus kiss)

And it was great. I missed him. We started talking again because his dad died. He is living in San Marcos now with an old friend baker.

We reminesed about high school, and how it kicked so much ass.

Talked about our dads and our moms are now considering dating. That sort of jive.

It was pretty nice. Its cool to reconnect with him. I can tell he will be a good friend.

*kissed* @ 3:04 AM



9.25.2004

My weekend of fun

First. Lets talk about friday night. OOOH kelz got drunk. I actually got a hangover. WTF. I only drank 3 of these:
and 1 of these:


I digress. Let me continue:

We go to liz's friend, ELise's, apartment complex. We get there. Hotties buy Kate and I alcohol.

We drink a bit. Then we go over to someones party in an apartment across the street.

We play "I Never" and when you have, you drink for 3 seconds.

Kelz and Kate and Liz get FUCKED UP :)

Then we go back to Liz's friends apartment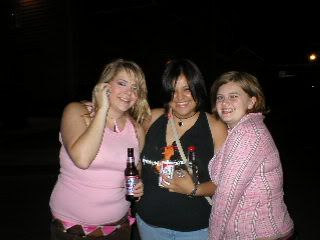 Look at us hoties outside.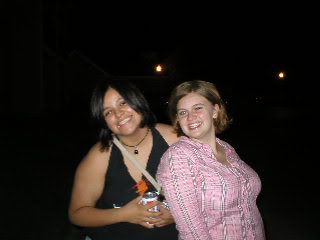 STill outside... still hot.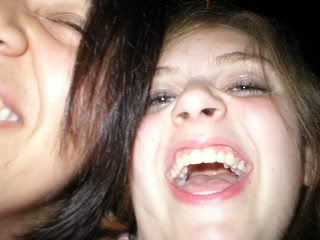 Not so hot.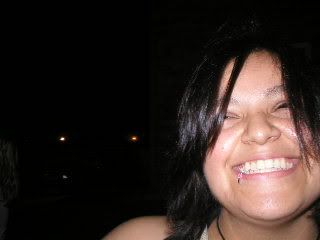 Liz is so cute!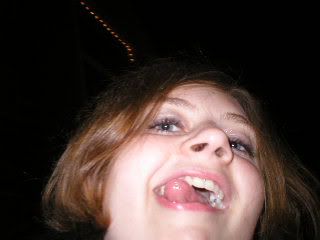 Nose shot! oh yeah.

Then we get back to her apartment.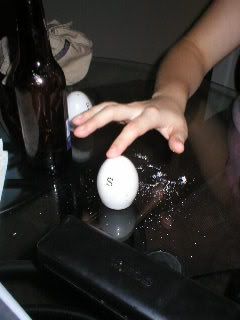 Kate spills the salt.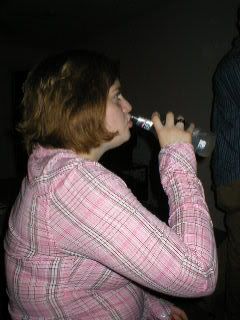 I drink some more.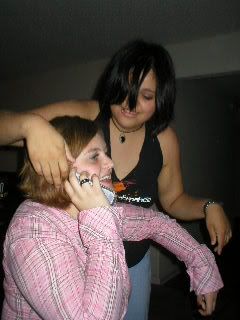 I tell liz's friend Daniel I want to do him cuz hes hot.



Kate also drunken dials.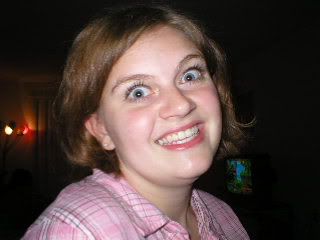 I have a great time.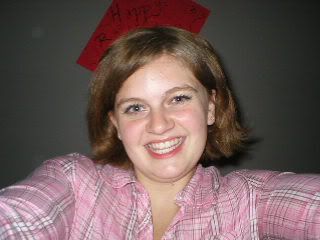 I try to look sober.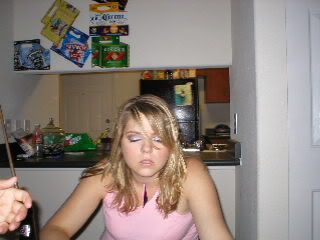 Kate trys to look awake.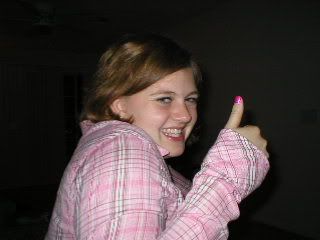 See. Were having fun. COWABUNGA.



Kate drinks some more.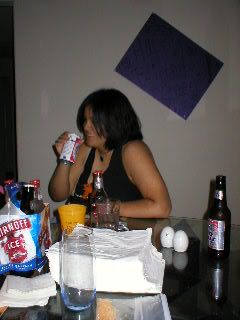 So does liz. Look at our dead soldiers all over the table.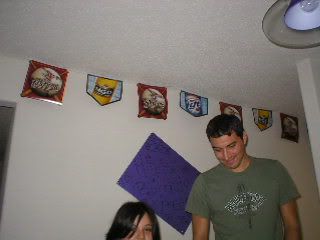 I take a picture of this dude rene for unknown reasons.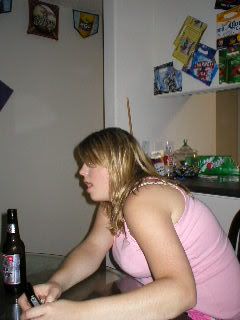 Kate looks smart in this one... :P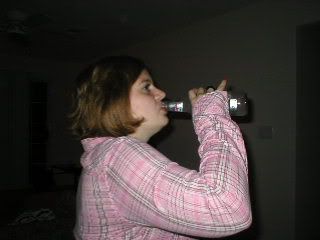 Whoa. am I drinking again?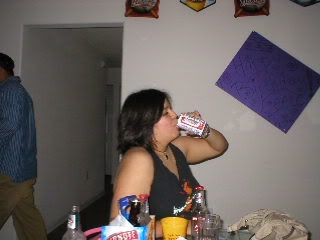 So is liz! holy crap.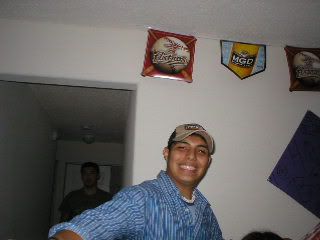 I tried to kiss this guy. It didnt work so well cuz he was drunk and didnt notice. I kissed his cheek though. And he grabbed me and told me we could have some fun. Ha. Not as much fun as you think buddy. I may be drunk but I can keep my panties on :P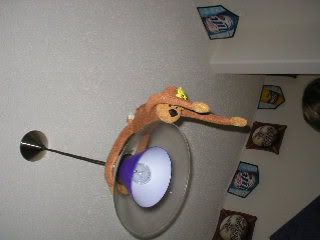 Shit like this is extreamly funny when you are drunk.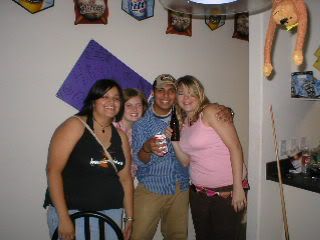 Group pic!

Fin. Friday. Night.

Saturday Night.

I was DD. We went to Liz's friend Shaun's friends apartment. Shak was there. Watched her and Liz get drunk. I got sexually assualted by some guy with a dildo sticking out of his pants. And Shaks roomie Diane grabbed my boob. Met so many pretty gay guys. Loved it :)

Fin.


*kissed* @ 3:25 PM



9.22.2004

Ick. Being sick sucks.

So last night I broke down and IMed james.

Kinda glad I did. He pretty much has decided that no matter what even if he "loves" me the relationship can never be fixed.

Drama queen much?

Hell. Makes it much easier to move on.


*kissed* @ 10:56 AM



9.20.2004

God. Having the person you think is your soul mate decide that you arnt worth it any more really sucks and hurts.

I am so thankful i have the greatest roomie and friend in the world who sweep me away from my troubles to a filling and wonderful johnny carinos dinner, at no expense to me.

And they were cute enough to trick me into it :P



*kissed* @ 1:33 AM



9.19.2004

Hello, mr. heartache. I've been expecting you.


*kissed* @ 1:15 PM



9.15.2004

125 dollars in my checking account. GO ME.


*kissed* @ 7:58 PM



9.13.2004

Welp. I am back from a good weekend. Lets start at the begining.

Homecoming game at SV:
That was a bust. John didn't even fucking win! Bastards. Some dude that James hasnt heard of won.
After game at sonic:
I had water. It rocked
At James:
Sleep. mmmmm sleep.
Next Day:
Woke up. Layed around. Watched t.v. Got good lovin. Went to magues in boerne.

OMG magues. Its SO good.

Then came back. Kicked my ass at xbox. More lovin. Cuddling. Duplex. Then I went home.

Home:
Watched The Prince and Me with mom.
Ate some good ass caserole she bought.

Next Day:
Slept till 12. Had ceral. Did shitloads of ceral. Cleaned out my car. Then watched a friends marathon on tbs with my mom. :)

I had a wonderful weekend. Even if I wasnt here partying with my girls. Love ya kate and liz.


*kissed* @ 9:23 AM



9.09.2004

Trend #1: The Unborn Victims of Wiolence Act (called the "Laci and Conner Law" for murder victim Laci Peterson) specifies that anyone found guilty for causing death or injury to a pregnant woman will be charged with a seperate offense for injuring the unborn child. And a new regulation enables the State Children's Health Insurance Program to provide coverage for fetuses separate from the mother. Giving fetuses autonomous rights puts your right to choose at jeopardy.

Trend #2: Dr.W. David Hager, a Kentucky obstetrician who reportedly prescribes prayer for PMS and refuses to give oral contraceptives to his unmarried patients, was reappointed this year to the FDA's influential Reproductive Health Drugs Advisory Committee. Along with his peers, he will make important decisions on funding for birth control, HIV, and STD research that the FDA generally follows.

Trend #3: A new amendment, proposed by Rep. David Citter (R-LA), would effectively shut down private health clinics that receive public funds if those clinics offer abortion services. Even if these clinics (which offer subsidized medical care for women making $23,000 a year or less) use private funds to provide abortion services. they will lose all government money, forcing them to close. More than a million women in the United States rely on these clinics for preventive health care; without them, thousands will find themselves hundreds of miles away from an affordable abortion.

Trend #4: In keeping with the current push for abstinence only education, the Centers for Disease Control and Prevention have issued new guidelines on condom education that restrict an educator's ability to demonstrate accurate use of this method of protection.

(This is a portion of an article from Marie Claire's October issue. Go to www.prochoiceamerica.org/takeaction/index.cfm for examples of letter-writing campaigns and other methods of speaking out. Let me know if you have other sources for information, please.)

*kissed* @ 1:19 AM



9.08.2004

same ol shit :)


*kissed* @ 11:18 PM





Philosophy inadvertently taught me today that Bush is a fascist.

Discuss.

P.s. I tottaly spelled all that right on my first try. GOOOO me.


*kissed* @ 2:52 PM





Um... GIVE ME HUGS BITCHES Look to the left... see that big ass graphic that was never there before... those are hugs. GIVE EM TO ME.


*kissed* @ 2:49 PM





YOUR PORN STAR NAME: (NAME OF FIRST PET + STREET YOU LIVE ON)
Titi Concho

YOUR MOVIE STAR NAME: (NAME OF YOUR FAVOURITE SNACK FOOD + GRANDFATHER'S FIRST NAME)
Kettle Chips John

YOUR FASHION DESIGNER NAME: (FIRST WORD YOU SEE ON YOUR LEFT + FAVOURITE RESTAURANT)
Be Chilis

SOCIALITE ALIAS: (Silliest Childhood Nickname + Town Where You First Partied)
Kelz Canyon Lake

"FLY GIRL" ALIAS (a la J. Lo): (First Initial + First Two or Three Letters of your Last Name)
K. Mc

DETECTIVE ALIAS: (Favorite Baby Animal + Where You Went to High School)
Kitten Smithson

BARFLY ALIAS: (Last Snack Food You Ate + Your Favorite Alcoholic Drink)
Zour Screwdriver

SOAP OPERA ALIAS: (Middle Name + Street Where You First Lived)
Beth Lookout

ROCK STAR ALIAS: (Favorite Candy + Last Name Of Favorite Musician)
Nerds Cuomo


*kissed* @ 1:39 AM





Here's what we think about that...: And the Oscar goes to...

Oh please. *rolls eyes* boo hoo. Someone actually did some research instead of just blasting the president out of ignorance so lets make extra fun of him.

*kissed* @ 12:32 AM



9.07.2004

Have an allergy to the most common metal used in every day objects and jewelry SUCKS.

I just figured out why my legs itch ALL the time.

The metal I am allergic to is in my razor.

I have a rash on my neck from a necklace i wore a few days ago (from the clasp on the back of my neck) and on my stomach because i want to wear my belts despiet the metal gives me the rash.

I have a small little spot of bumps on my leg from having change in my pockets.

ARGG


*kissed* @ 11:24 PM





How awful the middle east is.

I am watching some plastic surgury show and they are reconstruction an arab womans hymen to save her life pretty much.

If her fiance finds out she is no longer a virgin they are allowed to kill her.

She was raped when she was like 12.

Good times.

It makes me sick.


*kissed* @ 1:34 AM





so here is a new thing I will do. I will post movies I want to see then when i see it I will review it. Good times.

Kids
The Nightmare Before Christmas
Boondock Saints
(Ive seen Pulp Fiction but havnt seen it for a while. I shall rewatch it)
I wanna buy Pee Wees Big Adventure
A Clockwork Orange
I wanna buy donnie darko
the crow
rocky horror picture show
Freaks
Wanna see garden state
Melvin Goes to Dinner
Eureka
hero
The corporation

More to come :)


*kissed* @ 1:05 AM



9.06.2004

Ick. Lets go over stress in my life

1) Just got a ticket. It will prob. cost me close to 150 to pay off. I plan on doing defensive driving :/
2) Only 200 in my savings. Great. :/
3) My mom has decided she needs to remarry and told me today. So i feel rgaet about that.

It may not seem like alot to others but it is driving me crazy.

Now i am gonna clean and study. WOO HOO. :/ sarcasm.


*kissed* @ 10:07 PM



9.02.2004

Now I love you and I'm afraid to loose you.

But getting more and more less afraid every day. I am so lucky to have such an amazingly compasionate, sweet, and damned honest man to call my significant other. Very few find that and I will hold on for dear life.

I love you James. I will be with you through thick and thin and will always be there as support.


*kissed* @ 6:07 PM